Landscape and Garden Soil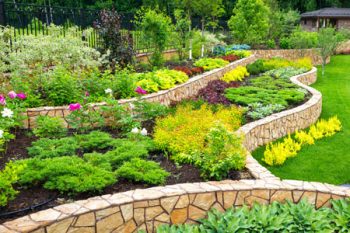 Soil choices are essential to the health of your landscape. Certain types of soil are used in different applications, and without them, it can be difficult for your plant life to thrive.
At Bark Boys Inc., we specialize in more than just quality bark selections; we are experts on quality soil as well. Our friendly staff is happy to offer advice on the best soil option for you. For all properties, we even provide same-day delivery, in most cases.
Topsoil
Our topsoil has been run through a screen to remove any rocks, root, or other debris. This soil is excellent for laying sod or planting grass seed. It is also a fantastic choice for retaining walls and an all-around "fill."
Compost
Leaves and recycled yard debris are the major components of organic compost. This extremely rich, fine, dark material is very high in nitrogen and is an excellent source to amend depleted topsoil. One of the best times of year to add compost to your garden beds is in the spring. Many avid gardeners use compost as a top dressing instead of bark dust. Compost acts similar to hemlock or fir bark dust helping soil retain moisture and discouraging weed growth. Fall is also an excellent time to spread compost around your garden beds. Over the winter months, the rain will leach essential nutrients into your soil for healthier, happier, more beautiful plants the following spring.
Mulch
Many people often mistake mulch and compost as the same product. Compost is packed full of nutrients providing healthy soil for the plants to feed on. Mulch is organic material that covers the top layer of soil. The purpose of mulch is to protect and prevent. Mulch helps prevent weeds from germinating, helps to retain moisture, insulates the ground, and reduces the amount of soil erosion. Both mulch and compost are essential for a healthy landscape.
Organic Compost
We work directly with the recycling program to obtain this compost. It is comprised of all organic material that naturally decomposes to create fertile soil filled with healthy microbes. Using organic compost in your soil not only increases the number of plant nutrients, but it also improves the soil texture and helps introduce earthworms. *Tested and approved by the USCC (United States Composting Council) Soil analysis available.
Soil Mix
Organic compost and topsoil are mixed at a 60/40 ratio. (60% organic compost & 40% sandy topsoil). Soil mix is excellent to use for raised flower beds, vegetable gardens, planter boxes, or enhancing the condition of your existing flower beds. We tested it, and you can use it for house plants too!
Dependable Delivery of Landscape Materials
At Bark Boys Inc., we have a fleet of vehicles standing by ready to help load up and deliver your materials wherever you need. We provide same-day delivery for both commercial and residential customers.
We have a Ford F-550 with a 10-yard dump box. It's ideal for navigating properties with narrow or steep driveways or tight spaces such as an alley. Each of our standard delivery trucks can haul up to 3 units (22.5 yards) of bark. Equipped with a center divider and able to carry two different products separately at the same time. Our walking floor trailers carry up to 135 yards (18 units) depending on the product. This means we bring the product directly from the sawmill to you – at a considerably lower price! Because we load the trucks to weight, quantity varies due to material moisture content.
Landscape Supply
When you're looking for a reliable and knowledgeable company, come to Bark Boys. Having been in business since 1978, we understand that quality products make all the difference in the world to your landscape design. Having a healthy and beautiful property involves more than just mowing the grass and trimming the hedges. Using high-quality organic compost, real hemlock and fir bark, and local sand straight from the Oregon Coast yields beautiful results. Call Bark Boys Inc. for all your landscape materials!