Decorative Rocks for Landscaping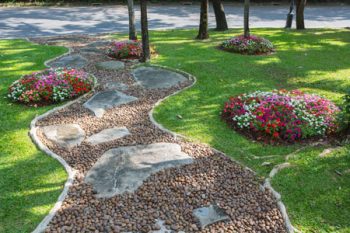 The use of rocks in landscape design is common in both residential and business properties. At Bark Boys Inc., we have a wide selection of rocks, gravel, and sand to help accentuate your landscape.
Round Rock
We stock two sizes of round rock. The ¾" rocks are about the size of a marble, and the 1"-2" rocks are roughly golf-ball sized. Both of these options are great for drainage, and you can use this as a decorative rock in flower beds, or to create borders. Dry river beds are a popular design used by a lot of people. It allows you to add a fluid-like element to your landscape without needing all of the pumps and hoses for a pond or waterfall.
Red Cinder Block Rocks
These rocks are great to use as a decorative ground cover. You can create your design by combining these with any other round rocks. This can be used as a permanent alternative to bark dust and should be applied at a depth of three inches.
Sand Supply
Sand is often used in the landscape as a base to lay pavers to create walkways or install swimming pools. More and more people are also using sand for their fire pits. You can create a place for family and friends to hang out around the fire. And there's no better feeling than being able to sink your toes into the sand. Commercial properties use sand for volleyball courts and golf courses. Different sand colors will provide unique looks to your landscape design.
Landscape Sand
This fine-coarse sand is excellent for golf courses and is also used to set pavers, leveling above ground swimming pools, horseshoe pits, and in children's sandboxes. This sand is versatile, and you can use it in a variety of applications. The staff at Bark Boys Inc. are always happy to answer any of your questions.
Dune Sand
We love the Pacific Northwest as much as the next person, and that's why we offer our clients sand straight from the dunes on the Oregon Coast. This fine, clean, dune sand is great for sandboxes, volleyball courts, and setting paving stones. Incorporate a little bit of the coast into your backyard.
Gravel
Gravel is an incredibly versatile landscaping material. It offers excellent drainage, and you can pack it very tightly to create a stable base when pouring concrete or installing heavy structures like hot tubs and sheds. There is a variety of gravel options available to you at Bark Boys Inc. Feel free to ask one of our friendly and knowledgeable staff members about the best gravel option for your project.
Pea Gravel
Pea gravel consists of small grey stones about the size of a pea. This decorative rock can be used in flower beds, around borders, and for drainage in small flower pots. You should apply this at a depth of two to three inches.
Turkey Grit
¼" minus gravel, also called turkey grit. This gravel can be used in walkways or on driveways. You should apply it at a minimum depth of two inches.
Crushed Rock
When you crush rocks, the pieces aren't always uniform in size. And this is how you end up with a variety of gravel types. It all depends on the size of the rocks you are looking for and the consistency.
¾" Minus Gravel
This type of gravel consists of crushed rock with pieces ranging from 3/4 inch down to fine pieces. The combination of jagged edges and small rocks allow this gravel to pack tightly. It is an excellent base for under concrete, pavers, garden sheds, and hot tubs. You can use it on gravel driveways, and once packed down, it is perfect for gravel walkways as it will not shift under your feet.
¾" Quarry Rock
Quarry rock is very much like 3/4 minus river rock. However, it is a much harder substance and will give you maximum compaction, making it ideal for gravel driveways.
Rock, Sand, and Gravel Delivery
At Bark Boys Inc., our goal is to not only provide our clients with high-quality materials but to do so with the best customer service. We have a fleet of trucks in different sizes to offer same-day delivery to all of our customers!