Dependable delivery of landscaping materials
If you don't have the time, skill, or trucks to haul landscaping products to your commercial or residential location, contact Bark Boys Inc for reliable, friendly, and professional delivery services.
We have an entire fleet of trucks to handle the job. In most cases, same-day delivery is available. For competitive pricing and FREE estimates for bark blower service, visit us today!
An assortment of vehicles for prompt material delivery
Check out these details about our fleet of delivery trucks: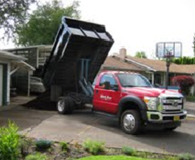 Small dump truck: We have a Ford F-550 with a 10-yard dump box. It's ideal for navigating properties with narrow or steep driveways or tight spaces such as an alley.
---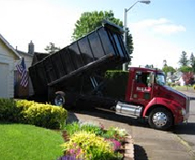 Standard local delivery truck: Each of our standard delivery trucks can haul up to 3 units (22.5 yards) of bark. Equipped with a center divider and able to haul 2 different products separately at the same time.
---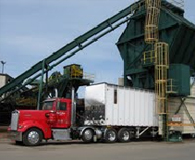 Direct sale: Our walking floor trailers carry up to 135 yards (18 units) depending on the product. This means we bring the product directly from the sawmill to you – at a considerably lower price! Because the trucks are loaded to weight, quantity varies due to material moisture content.