Bark, Bark Dust, and Bark Mulch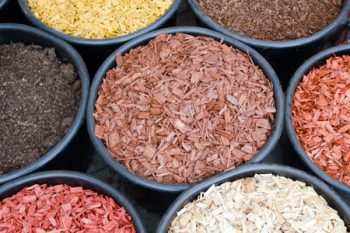 At Bark Boys Inc., we know a thing or two about bark. We get our bark products straight from the mill, ensuring that our clients get quality materials for their landscape. We stock hemlock and fir bark, both of which are beautiful and beneficial in many landscape designs.
The bark of trees can be broken down to create a variety of products. Bark nuggets are large chunks of the tree bark; mulch is the result of the bark being ground down into small pieces. Bark dust is broken down even smaller until it is almost a powder-like consistency. All of these bark products are useful in their own way for different applications.
Regardless of the type of bark you need, our friendly staff is ready to help you with your next project!
Hemlock
Hemlock bark contains little to no slivers, so it is perfect for the avid gardener and families with small children. You can use it as a decorative ground cover to add that finished look to your landscape. You should apply this material at a depth of two to three inches. Hemlock will help retain moisture in hot months, protect plants from the cold winter months, and help keep the weeds down. It is high in natural oils and has been found to repel ants and other insects when the bark is fresh.
What is the difference between red hemlock and dark hemlock?
Hemlock is available in either Red (fresh from the sawmill) or Dark (aged). Bark Boys purchases all its bark products directly from the mill. When you order from us, you know it is real hemlock, guaranteed!
Fir
Like hemlock, fir bark will provide that finished look, retain moisture, protect plants and help with weed control. This type of bark is more acidic than other bark products, so it is the perfect choice if you have shrubs such as rhododendrons, azaleas, and hydrangeas. Blueberries love more acidic soil as well!
What is the difference between red fir and dark fir?
Available in either Red (fresh from the sawmill) or Dark (aged). If sliver content is not an issue for you, consider fir bark as a less expensive alternative. You will still get the same quality and look but at a lower price!
Wood Chips
Wood Chips are just that, chips of wood. They are blonde in color and roughly the size of a quarter. Bark Boys Inc. supplies wood chips to the local elementary schools. Wood Chips provide what is known as a "soft fall" for children under swing sets and play equipment. Other uses for wood chips include ground cover, walkways, or in dog runs for mud control. If you are looking for a long-lasting product in your landscape, wood chips are an excellent option to consider.
Sawdust
This very fine material can be used for livestock bedding, covering up grass seed, and is the preferred choice for blueberry farmers. Many people with chicken coops often use sawdust over stray or hay because of its ability to absorb odors, and it is easier to replace with clean sawdust.
Bark Nuggets
Bark nuggets are roughly 1 – 2 inches in size. They make an excellent long-lasting ground cover. Bark nuggets are great for surrounding trees and other shrubs. They are wind resistant and decorative, making them a popular choice for landscape design.
Hog Fuel
This soft, fibrous material is an excellent way to control mud. Many livestock owners will tell you that cedar hog fuel is an invaluable resource for keeping their animals out of the mud. Due to its stringy texture, cedar hog fuel will stay on the surface rather than getting squished down and becoming a muddy area all over again. Cedar is known to repel fleas, so it is ideal for dog runs. And it smells great too, which is a bonus! Does your landscape contain a walkway or garden path? This is the perfect product for you. If you have ever taken a stroll around Bush Pasture Park or any of the city parks, you are walking on cedar hog fuel, and it came right from Bark Boys. Cedar hog fuel is also an economical alternative for underneath your children's play equipment.
Bark Blowing
Unloading and shoveling a truck bed full of bark, sand, or mulch is both time-consuming and physically exhausting. At Bark Boys Inc., we offer bark blowing services for both residential and commercial landscapes. Not only will this save you time, but it is beneficial for smaller, hard to reach areas where unloading from a truck is just not possible.
Ask our staff members about a free bark blowing estimate. Our technicians are experts at creating an even, full-coverage layer. The results make your landscape look clean and professional!
Bark and Landscape Supply
Residents and business owners look to Bark Boys Inc for their landscape supply needs. Not only do we locally source and stock all of our high-quality products, but we also offer same-day delivery, bark blowing services with free estimates, and friendly and informative customer service.
Even though it's in our name, we offer more than just bark products. Organic compost, soil, sand, rocks, and gravel are other popular landscape products that we stock. Because we believe in providing the best customer service experience for our clients, our company has an entire fleet of delivery trucks in a range of sizes for our residential and commercial clients.