Bark Dust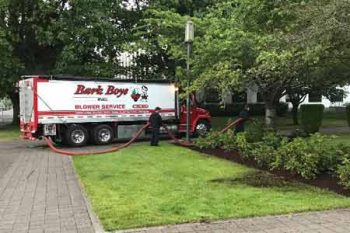 At Bark Boys Inc., we specialize in various landscaping supplies, including rock, soil, mulch, and bark. But we understand how time-consuming it can be to cover large areas with bark which is why we offer our professional services for both our residential and commercial customers. We handle the delivery and installation! Using the traditional shovel and wheel barrel method not only takes a much longer time, but you also don't get as consistent of a layer that we can with an industrial blower. Bark is a fantastic way to improve the look and health of your landscape; contact our experts today to get started!
Bark Blowers
At Bark Boys Inc., we pride ourselves on only providing our customers with the highest quality products and services available. All of our barkdust comes from a local mill, ensuring you receive all-natural, authentic bark. When it comes to the type of bark you want in your landscape, the most common options are hemlock and fir. Our experts are happy to go over the difference between them and recommend the best option for you.
When installing barkdust, the ideal layer should be between 2 and 3 inches thick. So, how much barkdust do you need? There are 7.5 cubic yards (200 cubic feet) in one unit of barkdust. One unit will cover 1,200 square feet at 2 inches thick. We have an easy-to-use yardage calculator to help you determine the amount of barkdust you need. While fir and hemlock barkdust are both long-lasting additions to your landscape, it is recommended to reapply a new layer every 2-4 years.
Why Blow Barkdust?
Installing bark in certain areas of your yard or business property not only gives your landscape a clean and refined look but also helps protect your property by offering numerous benefits.
Weeds
Because barkdust is installed on top of your soil and around other plants and shrubbery, it helps prevent weed growth in those areas by blocking the sunlight.
Nutrients
Installing barkdust is not only a great way to improve the look of your landscape it's also an excellent source of nutrients for your plants. As the bark naturally decomposes, it will release important nutrients like nitrogen into the soil.
Moisture
Another great benefit to utilizing barkdust is its ability to retain moisture. A nice, even layer of bark will absorb and preserve water, preventing your soil from becoming too wet in the rainy season or too dry in the summer.
Temperature
Some plants don't handle the winter as well as others and might suffer from it, but a blanket of barkdust creates a layer of insulation that will help protect your plant's roots from the cold.
Aesthetic
Nothing gives your landscape that elegant, upscale look like barkdust. The contrasting colors and clean lines make your property pop with a professional-looking design.
Erosion
Heavy rain and loose soil don't go well together. Luckily, barkdust is one of Mother Natures' best erosion control products.
There are many reasons to incorporate barkdust into your landscape design. And when you're working with the professionals at Bark Boys, you know that you've got a team you can rely on to provide you with high-quality products, services, and advice.
Bark Blowing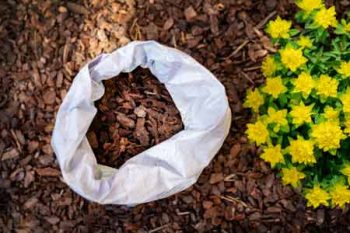 Bark blowing isn't just for front yards; in fact, much of our business comes from our commercial clients who need larger areas covered. Our team can handle bark installation for spaces with large square footage like apartments and condos, storefronts, school campuses, and more! If you've got a large project you need to be done, give us a call. Whether you want dark hemlock bark or fir bark, we'll load it up in our large delivery trucks and get the job done quickly and accurately. At Bark Boys, we take pride in providing our customers with the highest quality services. Give us a call today!